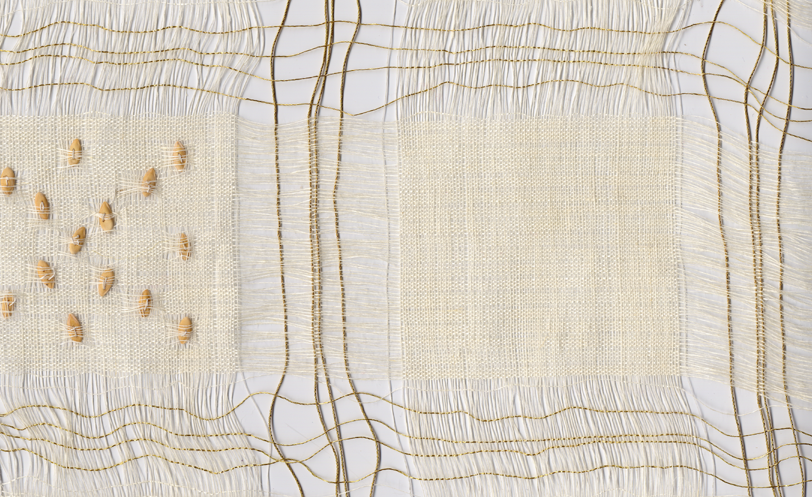 TEXTILE ART
From the Canut's Jacquard weaving to textile colleges, from sampling for furniture and clothing to the mastery of ikat (for my love of India), it is in my studio, overflowing with materials andcolors that textile moods are born in my imagination, endlessly stirred by my travels.
I see, I touch, I feel, I weave.
My creations gush out like so many colorful expressions, the blend of an artist born from aLyon silk maker and an Indian Brocard.
The shuttle transformed into the Orient Express, I embark in the heart of the fibers, in a palette of colors and harmonies interwoven between warp and weft.
To let myself be guided by the touch.
From the most sensitive skin on silk, to cotton, hemp, linen and bark…
Textile is my way of being.


IKAT
During my travels in India, I became interested in this technique.
I underwent a demanding training at the Weaver's Service Center in Hyderabad, a place dedicated to the practice of Ikat.
In Gujarat, near the village of Bhuj, I also met the last family of weavers of the double ikat called the "Patolas". It is a type of weaving of wedding saris reserved for the rich Indian society, andit is alsoemployed in two other regions, Orissa and Andhra Pradesh.

The term IKAT comes from the Malaysian verb "mengikat": to bind, to tie by rolling.
The technique is based on a drawing with geometric figures.
The designs are realized before weaving.
By capillarity, the dye gives a perception of blur on the edges of the geometric constructions.
From the ikat is born all the oriental magic emanating from a fabric whose harmonious designs and geometric calculations have the wisdom to get lost in the outlines of the patterns, seeming to push back their own limits.
THE FILM